Chose your favourite method of payment!
Our stores accept EC debit cards, as well as cash payment of course. 
Our webshop accepts: 
credit cards 
Paypal 
direct payments
More information about payment FAQs.
If you should not like what you have bought (although unlikely at our stores;-) we do offer a trouble-free replacement service: Just bring your receipt and the unused products back to our store within 14 days.
Of course you will also get your money back if wanted.
We offer this service in all of our stores.
Please note that the return transfer may take several days of processing.
More informations: Widerrufsformular/withdrawal form (only in german)
If your size is missing in one of our shops, we will have it delivered from one of our subsidiaries.
If you need a special product, or colourway: let us know. Our staff will try to place an individual order at our supplier. We will inform you as soon as we receive your goods.
We offer this service in all of our stores. 
Oversizes for footwear and apparel
Size matters!
We always carry a large assortment of plus sized products. (Women up to size 43 / Men up to size 50)
We offer this service in all of our stores.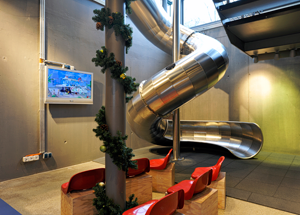 The lower floor of our main flagship is the new home of our huge kids world. Our specially trained staff is looking forward to provide your kids with the best service available. 
Even if you want to go shopping yourself, you should not miss to bring your kids: two floors connected by a brand new slide will keep shopping-boredom away. Promised!
We offer this service at our store in Munich-Allach. 
Testcentert: we offer the possibility to test our sports equipment, as golf clubs, tennis racckets or bikes. 
If you chose to buy one of the tested products you will of course get the test fee (partially - up to a maximum of EUR 50,-) refunded. 
Tennis rackets / Golf club testing: +49 (89) 89 219 - 137
Bike testing: +49 (89) 89 219 - 157
SUP (stand up paddle boards) testing: +49 (89) 89 219 140
Our test- equipment is only available at our Headquarters in Munich-Allach.
Register now, and we will always update you with our latest special offers, news, events, raffles... and everything else happening around our sport-bittl world!